Authors: Kenny Nguyen, Dylan Curry
Basic Overview
On Monday the 11th, 2021. Talon Robotics hosted the Bots for Tots event at our local Eden Prairie Mall. This event was to work with the Eden Prairie police department to help fundraise and support the "Toys for Tots" program. We had children interact with the bot by letting them play catch with the power cells while other team members provided parents with information about the FIRST community and to get a younger generation involved with S.T.E.M. We were also able to inform the parents on how they can get their child to start with the S.T.E.M and FIRST programs at an early age.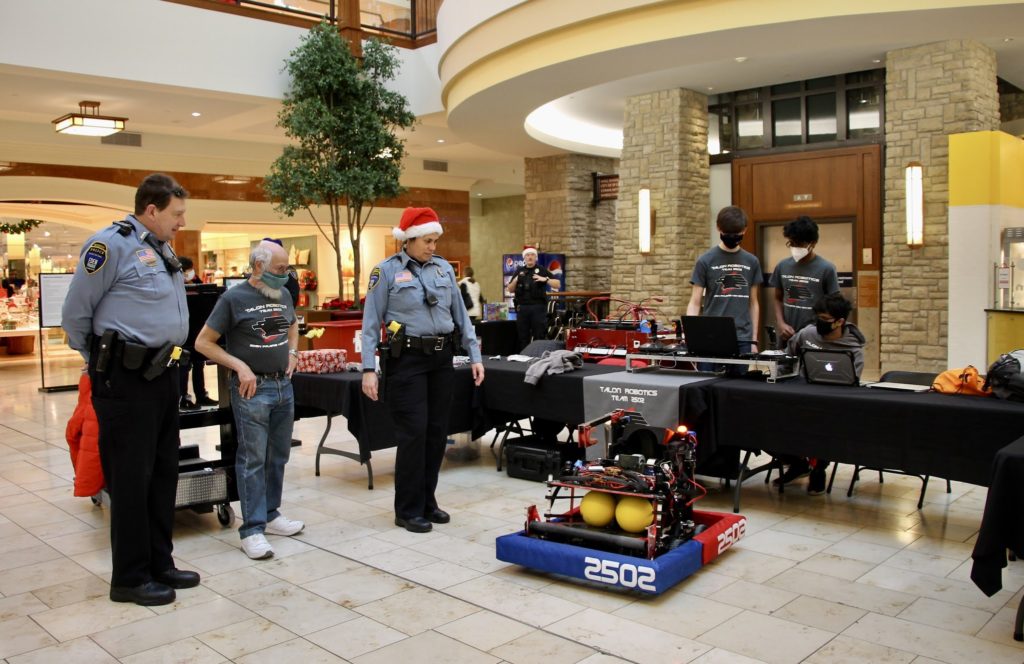 Overall Success
The Bots for Tots event was a huge success with a total of 48 donated toys and over $150 in donations. Overall a very good day for the team.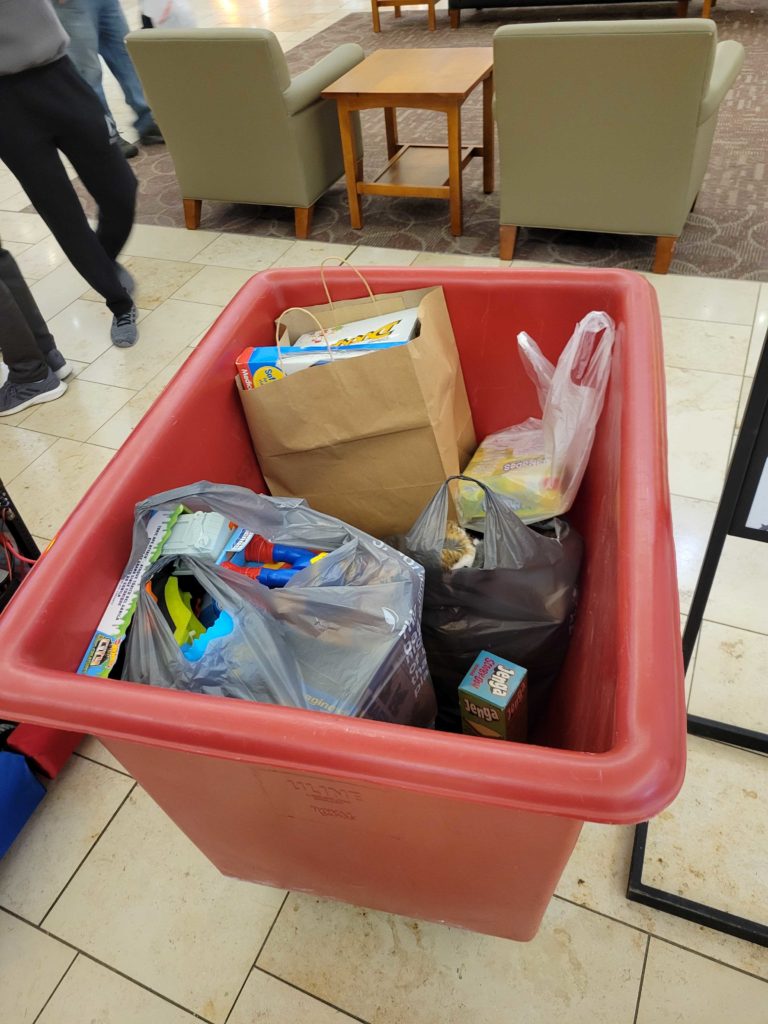 The Entire Day
Throughout the day we had some minor problems but thanks to all of our team members we were able to quickly solve these problems. One of the biggest problems was at the very beginning of the day, we had to shovel all of the snow to allow transport of the robot itself and the Talon Trailer. Fortunately we were able to set up at the mall just in time. Another problem we overcame in this event was when our competition bot's out-put was too strong. Fellow team programmers worked quickly and efficiently to fix this problem so we could adjust the speed to a shorter distance and to make the balls exiting the out-put easier to catch for the participating children. We were also very unlucky to have one of our bot's wheels damaged. But with the short amount of tools and spare parts we had on hand, senior team members repaired the wheel successfully so the Bots for Tots event could continue on throughout the rest of the day.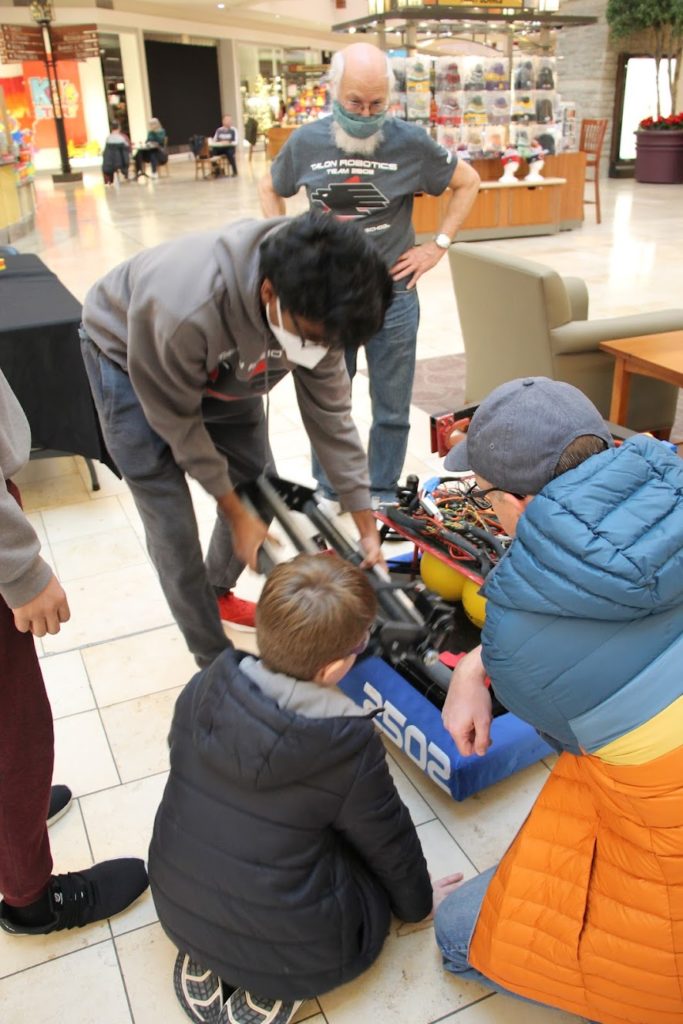 Great Day For The Community And The Team
Talon Robotics is happy to say that Bots For Tots was a successful fundraising event. In all we are very happy that we reached our goal to inform families about S.T.E.M and FIRST while supporting the Toys for Tots program. We want to thank everyone who donated at the event. Without the help of all the members who volunteered, we would not have been as successful as we were.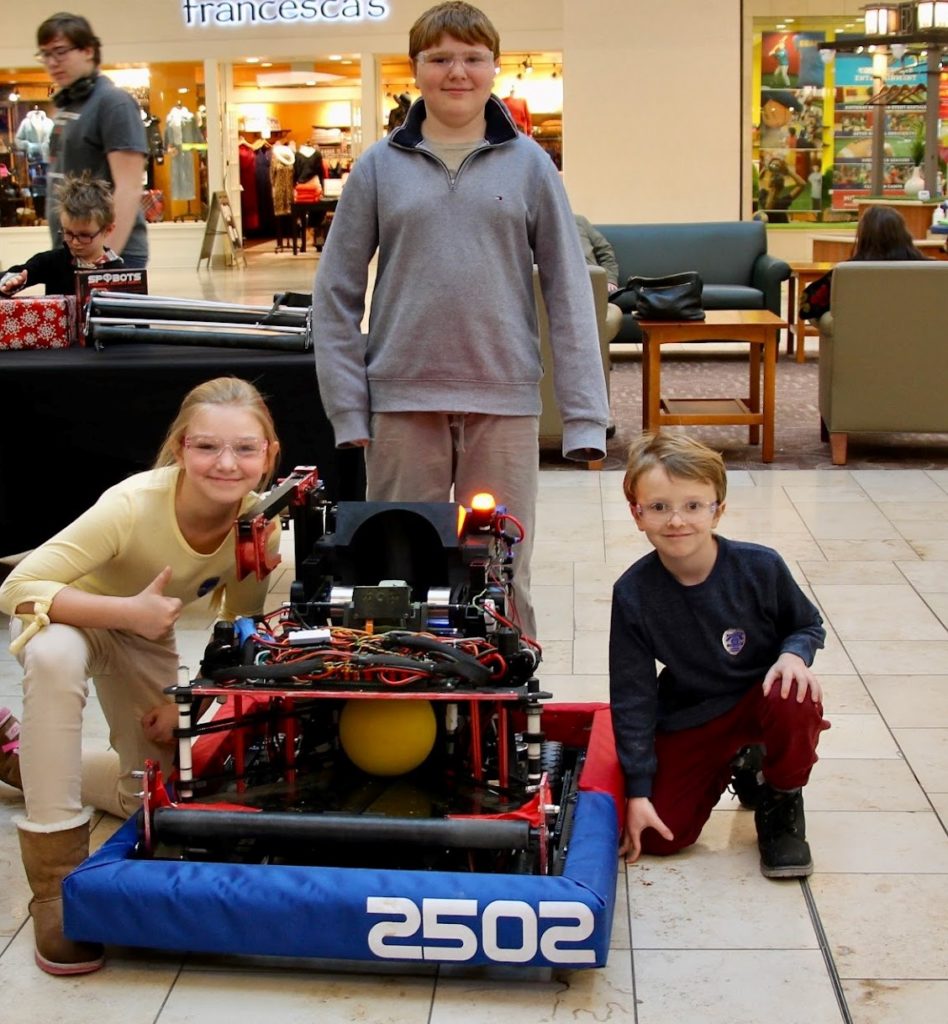 Three kids posing with the competitive bot at the event.
Stay Connected With Us!
If you want to stay connected with the team during the entire season feel free to check out our social medias.
Tik-Tok: https://www.tiktok.com/@frc2502?
Instagram: https://www.instagram.com/ephs.robotics/?utm_medium=copy_link
Twitter: @FRC2502