Written By: Sadie N
Event Summary
Last Wednesday, April 12, 2023, four students and three mentors from our team went to St Paul for STEM Day at the Capitol 2023. This event has historically been held to invite Upper Midwest FIRST teams to show off their robots and advocate for STEM and robotics-related bills, and this year Talon joined to help support Senator Carlson and Representative Edelson's Senate File 1359/House File 1934. These bills, if passed, will help fund FIRST practice fields, such as the MURA practice field, and support internships for students in STEM. 
At 9:00, the group arrived bright and early at the Capitol. Ten FRC teams and three FTC teams had already packed the rotunda, and we had a great time walking around and conversing with the other students. At 9:30, the group heard from a couple of representatives from each team, who shared their experiences with robotics. Moreover, Senator Carlson, Representative Edelson, and Senator Putnam also addressed the teams.
Meeting Our State Representatives!
At 10:50, the team raced over to the Senate Office building for our 11:00 meeting with District 49 Senator Steve Cwodzinski. Although our time was short, we had an incredible time sharing our stories with Talon, discussing legislature, and catching up on the changes that have been made in the last six years since Senator Cwodzinski was a history teacher here at EPHS! Naturally, we had to take a couple of pictures with the senator before we left.
To end our morning at the capitol, Talon caught District 49B Representative Kotyza-Witthuhn for an 11:30 meeting before the afternoon floor session. We had a really great conversation about the importance and value of FIRST robotics, and hopefully gained new supporters in her children, currently going through Eden Prairie Schools! Once again, we could not leave without a photographic record of our fabulous meeting!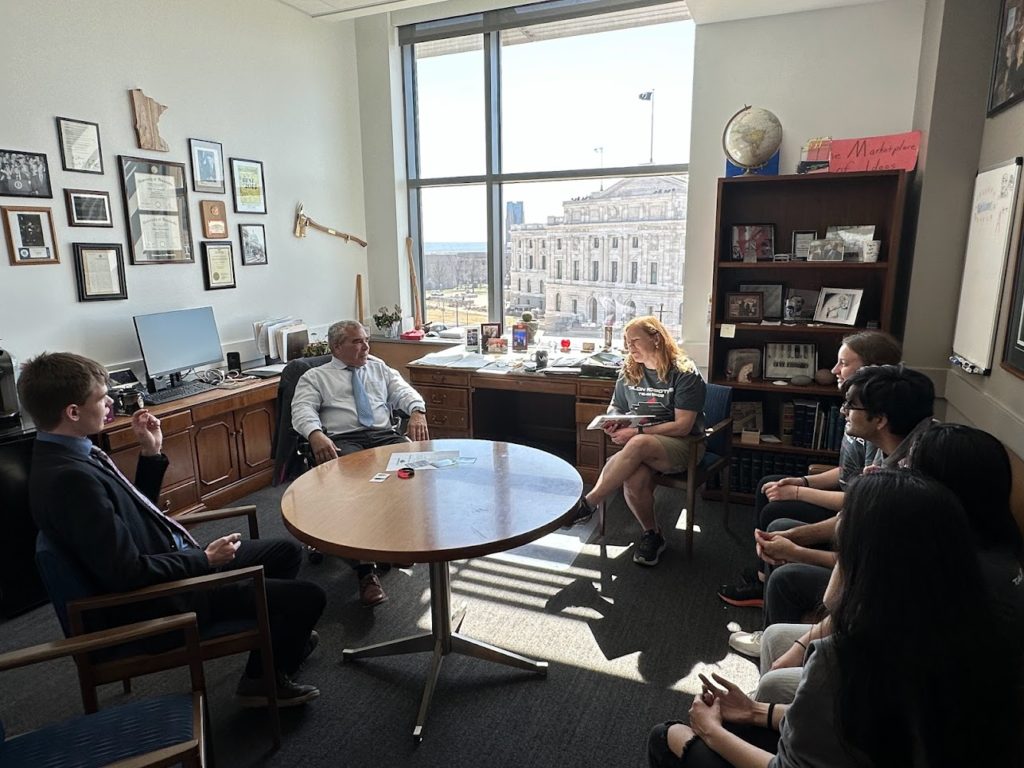 Senator Cwodzinski told us "Don't let school get in the way of your education"… but unfortunately, we were back at the high school by 12:30. We had an amazing morning advocating for our futures as youth in STEM and learning more about our Minnesota State Government, and can't wait to return to STEM Day next year!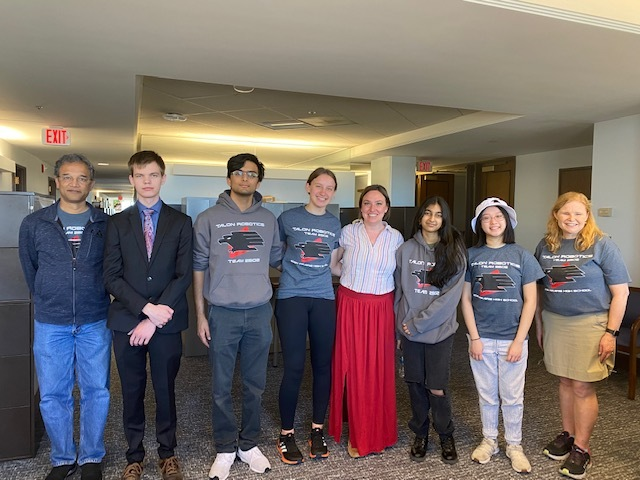 Stay Connected With Us During The Entire Season!
If you want to stay connected with the team during the entire season. Feel free to check out our social media pages:
---