Updates On Sub-teams
The last two days were both very busy days for Talon. We had our regular meetings and open rooms.
Yesterday the team had their regularly scheduled programming meeting. At the meeting they continued to work on their individual projects. They also talked about merging the code with the main branch. This means we are in the final stages of coding for the robot.
Today we had the awards and media meeting. At the awards meeting they worked on the chairman's video. The Media team discussed ways to customize the website. They also worked on ways to make the website more accessible for everyone.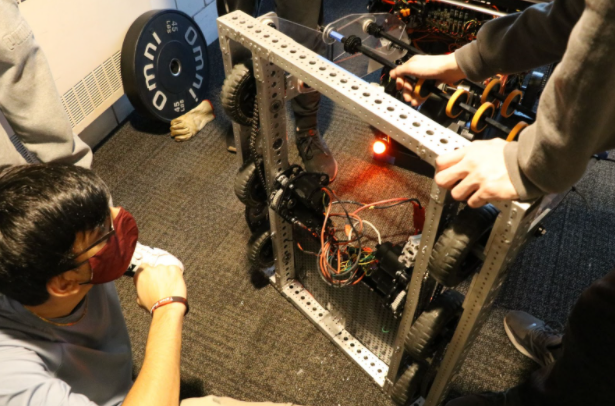 Open Room Fun
Yesterday the team had lots of fun working on the climber. One team member started work on mounting the clumber onto the main robot. Currently the robot only has one of the two metal bars attached to it. You can see the current robot in the photo below. Yesterday we were very happy to see some new manufactured parts that arrived in the mail. Today we went to the machining room to cut new stand off pieces for the shooter which we are currently making. Today we decided to test out how much weight the new robot could push. While doing so we found an issue with the drive controls as of right now we are switching the motors on to robot because we believe that the old ones are faulty.
Stay Connected With Us During The Season!
If you want to stay connected with the team during the entire season feel free to check out our social media.
Tik-Tok: https://www.tiktok.com/@frc2502?
Instagram: https://www.instagram.com/ephs.robotics/?utm_medium=copy_link
Twitter: @FRC2502